Frac Acid Pumps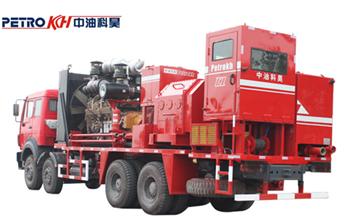 Frac acid pumps can be operated alone and together with other fracturing equipments during well perforation. Its maximum working pressure reaches up to 100 MPa. We have several acidizing units capable of both low pressure jobs and high pressure jobs. Whether it is a small breakdown job, ball out acid treatment, or acid treatment with rock salt diversion, we can handle it.
Typical Product
YLC105-1200 frac acid pumps are mobile devices equipped with a horizontal triplex high pressure plunger pump .YLC105-1200 type acidizing fracturing truck is mainly used in oil and gas fields in deep, deep and shallow well various acidizing fracturing operation, but also can be used for hydraulic sand, coal mine high pressure hydraulic coal mining, ship high pressure hydraulic cleaning production.
Specifications of YLC105-1200 Frac Acid Pumps
| | |
| --- | --- |
| Chassis | Norther Benze 8 × 4 |
| Engine | KTA38-C1200 |
| Transmission | BY920 |
| Plunger Pump | 3ZB-1120 |
| Max. Working Pressure | 99 Mpa(4" Plunger) |
| Max. Flowing Rate | 2552 L/min(5" Plunger) |
| Optional Plunger Size | 4" 4-1/2" 5" |
| Max. Input Power of Plunger Pump | 1120 KW |
| L × W × H | 2199 mm ×1472 mm×1113 mm |
| Weight | ≤4500 kg |
Related Product
Skid Mounted Acid Pumps
Skid mounted acid pump unit is used to conduct high horsepower pumping, acid transportation, fluid mixing, etc. for oil well perforation in oilfields. Our acidification fracturing trucks are efficiently designed and fully integrated, allowing operators to accomplish multiple acidizing treatments in rapid succession. Besides, var...
Truck Mounted Acidizing Pumps
Truck mounted acidizing pump skid is composed of chassis, horizontal triplex single acting plunger pump, operation platform, and so on. On the operation platform, there is circuit system and gas circuit. Due to highly automatic operation, these two systems can be operated by only one manipulator. Our acidification unit is capabl...