Crude Oil Transporting Skid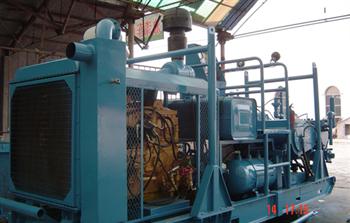 Crude oil transportation skid is widely used for transporting oil exploited in oilfields. To fulfill longtime continuous work in rugged environment, we apply triplex plunger pump when manufacturing the pump skid for oil transportation.
Parameters of Crude Oil Transportation Skid
Product Crude Oil Transporting Skid
Dimension 6500 × 2300 ×2400 mm
Deck Engine Cummins / Weichai Engine
Deck Transfer Case Mechanical Type
Plunger Pump 3NB-265
Max. Working Pressure 25 Mpa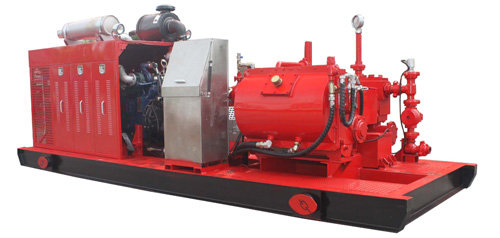 Related Product
Acidizing Thermal Washing Skid
Pump skid for oil well stimulation is a set of heat&acidification well washing pumps mainly used for workover operations. It is utilized to wash well, kill well and test the pipeline pressure at the well mouth. The acidizing thermal washing skid is constituted by pedestal, diesel engine, hydraulic transfer case, universal drive ...
GJQ40-17 Cementing Skid
GJQ40-17 skid mounted cementing unit is applicable in well cementing for large-depth/mid-depth/small-depth oil wells. It is used to produce cement paste, inject/pump the cement into well, etc. Apart from this, the cementing skid can be utilized in washing wells, acidizing and fracturing operations. Its main components are pedest...